At BIS, we take immense pride in our team of passionate and dedicated Chinese ducators, and Mary is the coordinate. As the Chinese teacher at BIS, she is not only an exceptional educator but also used to be a highly respected People's Teacher. With over two decades of experience in the field of education, she is now willing to share her educational journey with us.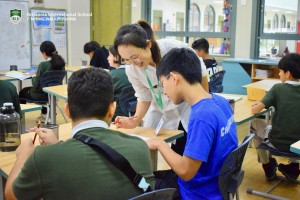 Embracing Chinese Culture in an International Setting
In the Chinese classrooms at BIS, one can often feel the enthusiasm and energy of the students. They actively participate in classroom activities, fully experiencing the allure of inquiry-based learning. For Mary, teaching Chinese in such a dynamic environment is a source of immense joy.
Exploring the Mysteries of Ancient Chinese Culture
In Mary's Chinese classes, students have the opportunity to delve deep into classical Chinese poetry and literature. They are not merely confined to textbooks but rather step into the world of Chinese culture. Recently, they studied the poems of Fan Zhongyan. Through in-depth exploration, students discovered the emotions and patriotism of this great literary figure.
Profound Interpretations by Students
Students were encouraged to independently search for additional works by Fan Zhongyan and share their interpretations and insights in groups. In this process, students not only learned about literature but also developed critical thinking and teamwork skills. What was even more touching was their admiration for Fan Zhongyan's patriotism, reflecting the international perspective and rich cultural background of BIS students.
Paving the Way for Students' Futures
Mary firmly believes that international schools provide an ideal platform to cultivate a global perspective in students. She encourages students to engage in more extracurricular reading, including classical Chinese poetry, to gain a deeper understanding of Chinese traditional culture, open their hearts, and embrace the civilizations of the world.
At BIS, we take great pride in having educators like Mary. She not only sows the seeds of education in the field but also creates a richer and more profound educational experience for our students. Her story is a part of BIS education and a testament to our school's multiculturalism. We eagerly anticipate more captivating stories in the future.
Britannia Internation School of Ghuangzhou ( BIS )  Chinese language education
At BIS, we tailor our Chinese language education to each student's proficiency level. Whether your child is a native Chinese speaker or not, we provide a customized learning path to suit their needs.
For native Chinese speakers, we adhere strictly to the principles outlined in the "Chinese Language Teaching Standards" and the "Chinese Language Teaching Curriculum." We simplify the curriculum to better match the Chinese proficiency level of BIS students. We focus not only on language skills but also on nurturing literary competence and fostering independent critical thinking. Our goal is to empower students to view the world from a Chinese perspective, becoming global citizens with an international outlook.
For non-native Chinese speakers, we have carefully selected high-quality teaching materials such as "Chinese Wonderland," "Learning Chinese Made Easy," and "Easy Learning Chinese." We employ various teaching methods, including interactive teaching, task-based learning, and situational teaching, to help students rapidly improve their Chinese listening, speaking, reading, and writing skills. 
The Chinese language teachers at BIS are dedicated to the principles of joyful teaching, learning through fun, and adapting instruction to each student's needs. They are not only knowledge transmitters but also guides who inspire students to unlock their potential.
---
Post time: Sep-07-2023